Salaries and Fringe Benefits
The basic source of the fast development and progress which we have achieved as Evyap in the last years is our employees.
In this ever growing competitive environment, we implement a job and rank based salary structure to enable our employees to work with a high motivation and efficiency vested with necessary knowledge and skills for the purpose of providing a fair, consistent, competitive salary and total revenue policy within the company.
We participate in salary market researches on a regular basis in order to update the opportunities we offer to our employees and to structure these opportunities in a more competitive manner.
Our wage management system consists of strategies and policies which ensure that our employees will be awarded in a fair manner and in proportion of their contribution of added value to the organization.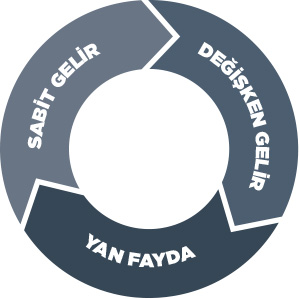 FRINGE BENEFITS FOR EMPLOYEES

Meal

Fuel Allowance

Shoe Check

Religious Holiday Aid

Provision Aid

Fuel Oil Aid

Private Health Insurance

Annual Leave Aid
With EvyStore which is a flexible fringe benefit program designed tailor-made where we offer to make use of flexible fringe benefit applications, all our white-collar employees can bend/diversify their current fringe benefits in the EvyStore Fringe Benefits Pool depending on their own wishes and needs.
REWARDING
For the purpose of evaluating any employee suggestions coming for the improvement of Evyap's processes and methods, increasing quality and efficiency and decreasing costs, we offer instant and project based rewards and encourage development.