Career and Development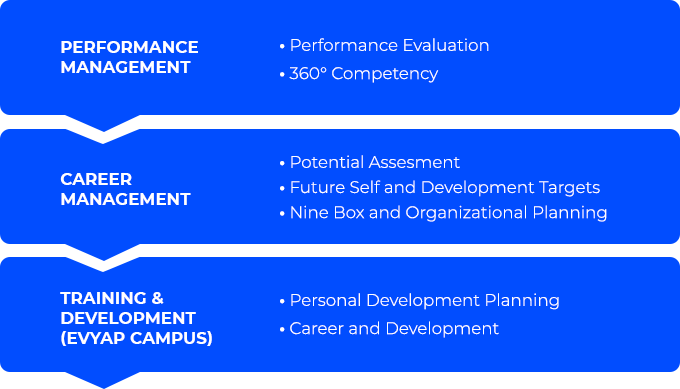 The Evyap Career System aims to carry out the organization and human resource planning for Evyap's future business needs and also to prepare employees for their career opportunities by increasing their current work performances.
Measuring our employees' performance and potential in an objective manner, defining training and development needs correctly, preparing the employees' action internally by planning personal development, evaluating our own employees with priority in case of assignments and promotions, increasing our recruitment rate and ensuring organizational agility are among our priorities.
Therefore we apply 3 steps in respect with Career and Development. With Performance Management, we support both employees and their managers so that both groups can complete their performance evaluations and 360° competency evaluations. With Career Management we evaluate the potential of our employees and learn about their expectations with the future self form. Accordingly, we constitute a nine box talent pool for each employee and conduct organizational planning. When all aforementioned processes are completed we prepare personal development plans for each employee with Training and Development and also plan feedback sessions.
Let's have a look at one of our employees' Evyap Career and Development Adventure;
The need for training and development never ends for people, is permanent and always continues regardless of aspects such as title, age and culture.
"Time ripens all things; no man is born wise." – Cervantes.
In order to ensure this in-house continuity we, as Evyap Human Resources, have established the Evyap Campus with a systematic structure which realizes employees' development at highest level. Upon evaluation with different tools we realize our employees' entire training and development activities within the framework of Evyap Campus, based on standard as well as individualized planning.
The Campus covers class trainings for competences, catalog trainings, and functional academies, leadership programs, orientation program, outdoor trainings, films, books, videos, Ted Talks, conferences, seminars, mentoring, coaching, development center app, foreign language trainings, rotation, business enrichment, and special projects.
---

Both as a matter of course and in accordance with our future vision, we aim to write Evyap's formula for the future with the contribution and energy of young people and to be stronger and faster by adding new elements to our chemistry.
Are you ready to create the future's formula for Evyap which aims to be the one of the leading personal care product manufacturers of the worlds? You can generate ideas for various brands and be in charge by rotating among different departments and, in the end of the Elements program, can take the opportunity to lead projects high impact.
We invite new graduates whoa are talented, have strong leadership potential and say cooperation is my job to the elements program.
Your career adventure may start in any of the functions such as Production, Maintenance, R&D, Sales, Marketing, Human Resources or Finance. While creating the formula which will carry Evyap to the future you will take place in international projects. Also, we as Evyap will always support you with functional and competency development trainings.